Review of the book: Acupressure's Potent Points, A Guide to Self-Care for Common Ailments by Michael Reed Gach
Review of the book: Acupressure's Potent Points, A Guide to Self-Care for Common Ailments by Michael Reed Gach
Acupressure's Potent Points, A Guide to Self-Care for Common Ailments by Michael Reed Gach – a family book to keep on the common bookshelf at home or at the office.
The book is a step by step on how to use acupressure to self-heal. It includes graphic designs and photography as well as models photos practising acupressure. It also includes anatomical drawings to show where to locate the pressure points.
Acupressure vs. Acupuncture
Acupressure is the next most effective complimentary therapy after acupuncture. If you believe in alternative medicine and you have already tried acupuncture, then you will be able to confirm that it does work to relieve conditions like:
stress and anxiety
ease headaches
relieve sinus problems
congestion and allergies
helps with insomnia
emotional imbalance
Acupressure works on the same points as in acupuncture but without using needles. Perhaps it takes a bit longer to alleviate the pain, depending on the intensity of your distress, however, the treatment does work.
Acupressure is also used for anti ageing and other beauty treatments.
Who is the Book For ?
This book is for everyone who is interested in natural health and body maintenance.
I came across the book, Acupressure's Potent Points, A Guide to Self-Care for Common Ailments by Michael Reed Gach, when on a trip in New Zealand. Well, actually it was recommended to me by a shop assistant at an alternative medicine bookstore in Auckland.
Acupressure´s Potent Points – Book Review
The Content 
The book is divided in two parts.
Part I is an introduction to acupressure and how to go about practicing self-acupressure.
Part II has dedicated sections to the acupressure points and techniques for specific common ailments such as;
Diarrhea
Earaches
Eyestrain
Colds and Flu
Constipation
Shoulder Tension
Hot Flashes
Hiccups
Toothaches
Water Retention
Hangovers
Here is an example:
One of the sections gives easy steps on how to use acupressure on yourself to treat Depression and Emotional Balancing.
The chapter starts with an introduction of what causes depression, continuing with some tips on a self-fulfilled lifestyle, and includes diet tips that help overcome depression.
The author makes an interesting parenthesis on the importance and benefits of deep breathing as one of the solutions.
Following there is a list of exercises to choose from to help ease your depression. Next are the illustrations that clearly show the relevant potent points for relieving depression and exercises to stimulate those same potent points.
The book also includes some interesting charts mentioned below:
Anatomical full body point location charts – that are very easy to identify and easy to work upon to release tension and pressure.
A chart to document your acupressure progress, whereby you can record your initial symptoms, acupressure points and exercises completed and the changes that you have noticed as you go along.
The book also includes an Appendix listing the Potent Points Summary. In the list, you will have the potent points with their corresponding reference number, what it is good for and the page numbers where you can find more information about that particular pressure point.
For example
Potent Point: Abdominal Sorrow Sp16
Page numbers: 82, 99. 110, 174
Relieves indigestion, nausea, and abdominal cramps; balances appetite and the gastrointestinal system.
Peoples Reviews
The book has very good and positive reviews and I will include some excerpts below for your reference: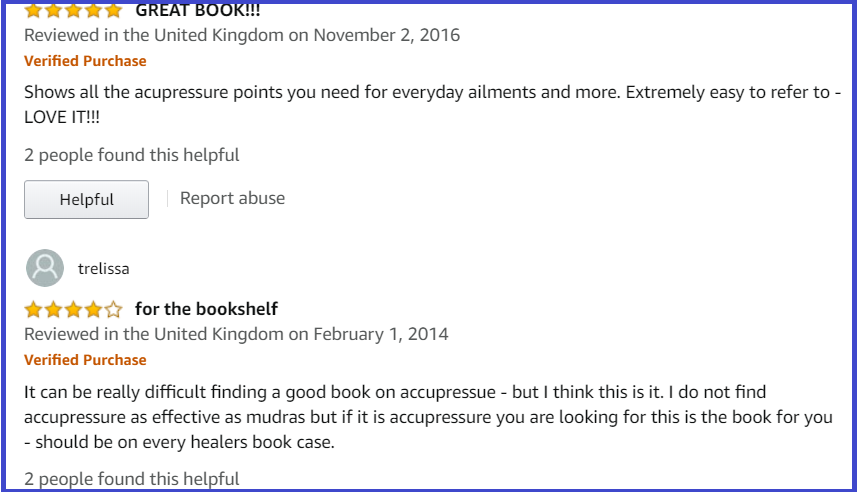 Final Thoughts
Living in good health is about making the right choices in your life, starting by making sure you are not depriving yourself of the basic needs; sleep, eat and exercise.
Implementing acupressure and deep breathing for health maintenance on a regular basis, along with daily exercise and a healthy diet, will ensure you keep radiant and strong enough to handle the daily fatigue and enforce your immunity.
The holistic approach to your well-being and a healthy lifestyle should include;
Self-acupressure
Good nutrition
Exercise
Positive thinking
Relaxation
Deep breathing
In my opinion, Michael Reed Gach, who is the founder and director of the Acupressure Institute in America, has put together this wonderful and easy to follow self-help book called Acupressure´s Potent Points A Guide to Self-Care for Common Ailments.
He is making it easy for you to learn the skill of acupressure, and be able to use the techniques on yourself and your loved ones. This can be practice whenever required to relieve the common ailments in your everyday life.
I hope you find the above information useful and please do comment below if you require more information or would like to leave your own review.
Grab Your own Copy by clicking on the book below