Natural Homemade Hair Treatment | You will enjoy this
Natural Homemade Hair Treatment | You will enjoy this
Do you at times get brittle hair out of nowhere or when least expected? One day you are comfortable that your hair is bouncy and silky and suddenly you wake up and the texture of your hair has become dull and fragile. If this sounds familiar to you then try this natural homemade hair treatment.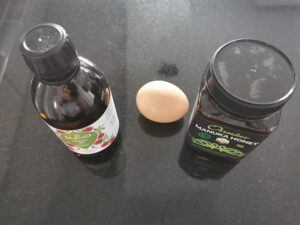 Yesterday, still on lock down in downtown Madrid, I woke up decided to try out the natural hair remedy and today I will describe what I did and how it works.
I have been treating my dry hair with Shea Moisture Manuka Honey & Mafura Oil Intensive Hydration Shampoo and Conditioner . I am quite happy with the results but since I am often low on iron due to loss of blood from pre menopause symptoms and heavy period, I tend to get thinning and brittle hair every now and again, so I do weekly treatments in addition to using the natural hair products just mentioned.
Ingredients for the Natural Homemade Hair Treatment
So let´s get to it. You would require the following ingredients:
One egg yolk
One full spoon of castor oil (you can also use olive or coconut oil)
One full spoon of honey (any honey will do. I am using raw Manuka honey)
A bowl
The Preparation is Easy
Crack one egg, separate the yolk from the white beat the yolk for two minutes if manually or use an electric whisker, whichever you find easier, until the mixture becomes a bit fluffy.
Add one spoon of castor oil and one spoon of honey.
Mix and stir for another minute.
The smell is not bad and the mix does not look messy or sticky. Just be careful if you are allergic to dairies or I heard some people are even sensitive to coconut oil. If that is the case this treatment, though natural, is not for you.
The Application of Treatment on Your Hair
Next, I headed to the bathroom to apply the mix. I started from the scalp down to the ends. You can use a dye/tint brush but since there is no colour I preferred to use my fingers. Scoop out a little of the mixture at a time and apply it to your scalp and massage the hairline. Repeat until you finish the lot you have prepared in the bowl. You will notice that the more you apply your hair starts getting sticky and it becomes more difficult to pass your fingers through your hair. If it gets difficult towards the end you can just paste the remaining liquid all over your scalp and hair.
I have middle length, thin hair and the quantity I prepared was just right for me. However, you would have to experiment depending on the texture and length of your hair. If you have shorter and oily hair perhaps you should use less oil and if you have normal or dry and long hair then you may have to double the amount of ingredients used: 2 spoons of oil and 2 spoons of honey and add 2 egg yolks instead of 1.
Now it´s all done. I pulled it up in a bun with a clip and covered my hair with a shower cap.
Leave it in for at least 20 minutes.
Since I have the time I will leave it in for as long as I can, unless it gets itchy for whatever reason.
I will come back later with the results.
OK, so 2 hours later I´m about to rinse my hair. It did not bother me at all but I think it´s been enough time and I want to get it done. I prepared the shampoo and conditioner that I usually use but then I chose not to use any since this was an experiment and was curious to see how it feels after the treatment, without applying any additional products.
I had to rinse several times with warm water as by now my hair was very gluey and sticky.
Then I towel wrapped my hair for about 5 minutes and then I did a quick blow dry.
The Result of the Natural Homemade Hair Treatment
Perhaps I did not get the result I was expecting in regard to bring out the natural moisture but the hair did feel soft. Also, even though I havent used any conditioner the hair still did not entangle. My hair also felt fuller and healthier.
The next morning
My hair today looks and feels much better, very soft to the touch and it seems like this experiment requires time (in my case overnight) to penetrate into your hair and get better results.
Conclusion
I liked the idea of this treatment. It is easy to prepare, not so messy, and for the results I got, I would recommend it and I would repeat for sure.
Remember DIY natural products and treatments are not good for everybody and one has to go experimenting what is best for you, what is your hair or health condition at present and the time you can dedicate to yourself and your beauty care.
I hope you find this useful. I have read other articles before applying this myself and I am now sharing my experience for others who would be searching information just like I did.
Enjoy the process and hope you find this treatment beneficial.
marisa
mybestessentials.com