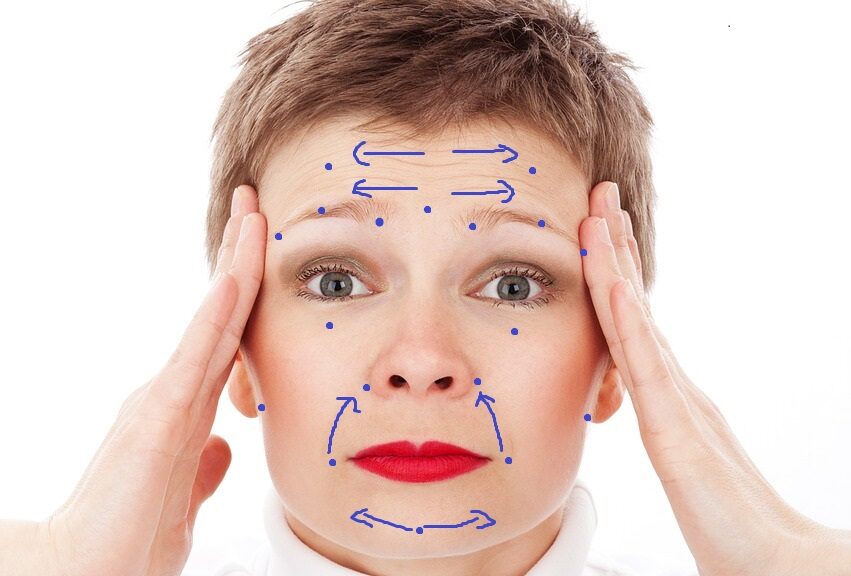 7 Anti Aging Acupressure Points | Face Lift Massage For A Youthful Look
7 Anti Aging Acupressure Points | Face Lift Massage For A Youthful Look
Taking care of your face and skin is of primary importance to maintain a glowing and younger healthier look. One way of doing this is by implementing an anti aging acupressure points face lift massage in your daily routine.
Dabbing expensive creams on your face does not actually make your skin look younger. It is essential to learn how to apply them properly and help your skin absorb the oils and creams by massaging them well.
In today´s post I will share with you a simple procedure that will help you delay skin aging.
Why Do We Get Wrinkles And How To Delay Aging?
As we age we produce less collagen, the skin gets thinner and dryer and are less flexible. The muscles and tissues also tend to weaken. As a result we start getting aging signs on the skin;
wrinkles
creases
dryness
coarseness
sagging
puffiness
Wrinkles also form with repetitive facial expressions, when frowning, laughing, thinking etc.
When you are constantly stressed you will get more wrinkles and by time a cranky look and massaging is required to release those tight muscles and regain that relaxed and youthful look.
We can also delay the aging process with a healthy lifestyle, that is; avoid bad diet, alcohol, smoking, direct sun exposure during peak hours without protection, and get more quality and restful sleep.
Consider acupressure as a daily skin care facial routine to reach deeper skin layering and maintain elasticity and firmness.
What Is Acupressure Therapy?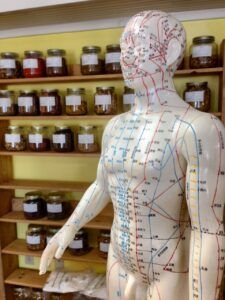 Acupressure is a traditional Chinese technique whereby you put light pressure on energy points on all your body. The method is safe and effective and it regulates and opens the channel lines through which the energy flows.
Acupressure works in the same way as acupuncture but without the use of needles.
Acupressure points on the face stimulate the body organs just like feet reflexology and hand reflexology points. This is also great for face rejuvenation as you are moving the qi positive energy.
You can stimulate the pressure points using your fingers or a face massage tool.
Anti Aging The Natural Way With Acupressure
Skin massaging provides an efficient anti aging approach. There are various ways of doing a facial massage.
Acupressure can be regarded as one of the alternative and non medical method for face rejuvenation. Little research has been carried out so far and there are no proven scientific results as anti aging method, however revitalising the facial muscles whilst releasing tension does make the face look more Juvenal.
The lymph moves the toxins and waste from the body system. If there is no circulation the lymph becomes stagnant in our body and we start getting eye bags etc. With the help of the massage we are moving the sluggish lymph fluids and restore the natural flow of fluids around the neck and face.
5 Minutes Daily Acupressure Procedure
Here is a simple 5 minutes acupressure face lift massage.
All you need is to dedicate 5 minutes daily, either in the morning when you are putting on your creams or make up, else in the evening before you go to bed. When you manage to do this on a daily basis you will get excellent results in a short time.
Should you have the time you can extend this massage to 10-15 minutes for quicker results. Then doing this twice a week is sufficient. This method will help to tighten and firm the skin by activating the facial muscles.
The procedure may vary. This is a typical routine that I do whenever I have the chance. However, there is no rigid rule on the sequence, as by practicing you will realise what is the best technique for you and which part of the face may require more attention. Then adjust the sequence accordingly.
Do the acupressure massage on a clean face, without make up.
Use light and gentle strokes, small circular movements or put light pressure with your thumb or index fingers on the points mentioned below. This latter method is literally a press and release touch. You do not have to push hard as even with a slight touch you can stimulate the energy flow.
Do the massage consciously and give it a loving touch. Releasing facial tension feels really good.

If possible, take a selfie before and after, and you can notice some difference, a softened look on your face, even from the first application.
Please note; you are stimulating blood flow, so if your face becomes red do not worry, as it is normal.
---
So to start with, the 5-minute routine.
Take a couple of deep breaths, move your head from the left side to the right side and stretch the neck muscle. Put a little oil on the palm of your hands, warm it up by rubbing your hands together and then wipe it lightly on your face. You can also use your favourite face cream instead of oils.
Now it is time to start the acupressure massage.
Face And Neck Acupressure Points – Facial Massage For Wrinkles
What you should focus on;
The following acupressure points are to be massaged to enhance blood circulation.
1. Frown lines in between the eyes; you can start with this point by applying the press and release technique. Repeat 10 times. Then continue with the forehead.
2. Forehead lines; scalp and forehead points will help to reduce the wrinkles on the forehead. These points are also good to relief stress, fatigue, get rid of persistent headache and improve blood circulation.
Slide your three middle fingers from the middle part of your forehead to the sides with both hands at the same time. Repeat 10 times. Now go back to the eye area.
3. Crow´s feet on the outer edge of the eyes; massage the point on the outside of the eyes in circular movement. Repeat 5 times. Continue below the eyes.
4. Puffy eyes and dark circles; the acupressure point is to be found under the eyes, in the middle part. Press and release 5 times. This is a tender area. Apply light pressure.
5. Smile lines; points on each side of the base of the nose, also very helpful for sinus congestion. Do little circular movements on each side with both index fingers simultaneously.
Now slide your index fingers from the corners of your mouth to the nostrils in upward movement, following the crease line. Repeat 5 times.
6. Chin wrinkles; Support your chin with both thumbs and walk your index fingers from the middle point on your chin to the sides whilst pinching lightly.
7. Neck wrinkles; massage along the collar bone area in light upward and outward strokes about 10 times. This is a great lymph draining massage.
Additional bonus acupressure points for lymph flow are;
3 points on the eyebrows. Press on both edges and the middle part. You can use the 3 index, middle and ring finger at once.
Ears. Massaging the whole ear reflexes the whole body organs. The point in the hollow area at the bottom behind the ear is pressed for lymph flow.
Here´s a great video I found. The lady shows a different way of working with pressure points which is also very good. I tend to use a combination of light upward strokes, circling massages and press and release techniques.
Hope you like it. Enjoy!
Benefits Of Acupressure Massage
It is free and will cost you nothing
you can do it at the comfort of your home and using your own favourite face products
you will see results from the very first week
firming and lifting muscles of the face
relieves muscular and facial tension
stimulates the skin to produce its own collagen
get better sleep
control of anxiety
better circulation
lifting, firming and toning the skin
detoxifies
helps the sinuses
refreshes and makes the face glow
relaxes
Rejuvenation Results
This anti aging acupressure points face lift massage can particularly help you achieve a relaxed look on your face if you tend to; clench your teeth when sleeping, frown during the day, purse your lips and do lots of facial expressions.
Some skin types are lucky as they are wrinkle free genetically, but the majority of skins unfortunately get wrinkled by time.
Acupressure increases the blood circulation significantly.
Though you can never get rid of all wrinkles, nonetheless you can always exhibit a more relaxed and better skin complexion on the face simply by adding the acupressure method in your daily regime.
I am almost sure this method has been applied to you at some point, if and when you go for a facial or massage. I´d love to hear your expereince and your views about this acupressure face lift procedure.
Marisa
www.mybestessentials.com – Beauty & Wellness
Sources;
https://www.ncbi.nlm.nih.gov/pmc/articles/PMC3583892/ Skin anti aging strategies