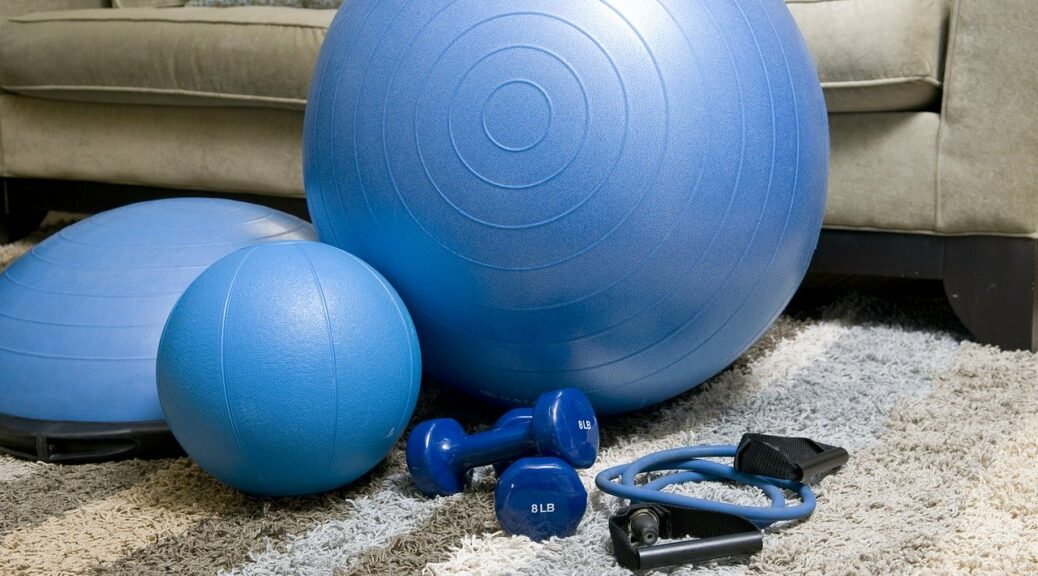 Best At-Home Workout Equipment 2021 Affordable and Compact
Best At-Home Workout Equipment 2021 Affordable and Compact
I am happy to share 5 of the best at-home workout equipment for 2021, affordable and compact.
Small equipment that works.
I am sure you are aware of the importance of physical exercising. The health benefits are endless.
Apart from keeping fit and feeling good with yourself, when you exercise on a frequent basis, you are protecting yourself from many diseases in the future.
Body fitness and vigorous physical activity are not only beneficial to achieve strong muscles and to look beautiful, but also favour the good function of your internal organs.
Brain fitness is not to be neglected. The holistic approach to mind & body balancing ensures a complete union between mind and emotional well-being, besides physical health.
Exercise, sleep and a good diet all support a healthy gut and in return, you will have a strong immune system that can fight the seasonal flu and other viruses. The fitter you are the more resistant you become.
Now that you know how significant exercising is, you have to get into the habit of working out on a daily basis, or at least 3-4 times a week.
During this pandemic, there is no better time to exercise while you have the time available and you mostly require to stay fit.
Here are some home exercise equipment you can consider to have, as well as some interesting accessories.
I hope you like the varied choice of products selected for you (top rated in their category), so you can keep fit and enjoy yourself at the same time.
This post contains affiliate links and I may earn a small commission when you click on some of the links at no additional cost to you. As an Amazon Associate, I earn from qualifying purchases. Thank you for your support. For more information please see my disclosure here
Best Home Workout Equipment
#1. Body Boss Full Portable Home Gym
Lightweight, Portable and Compact;
The Body Boss is perfect to work out both the upper and the lower part of your body, so if you have limited space at home then this is a great home gym to have.
Burn out fat and increase blood circulation; You can carry out up to 300+ different physical exercises simply by clipping the sturdy resistance bands to the fold-up a platform on one end and the accessories to the other end, and you will be able to work out all your muscles from various angles.
Customised to your needs; The Body Boss is ideal for every level and you can set up the board and cables to have less or more resistance and make it any easier or harder exercise.
The accessories come in a cool Body Boss bag; includes resistance bands, collapsible resistance bar, handlebars, ankle/wrist straps, a door anchor and the fold-up, non-slip base. It also comes with an exercise leaflet that can give you ideas of what exercises you can do with your Body Boss.
Reviewers state that Body Boss customer service is responsive, attentive and friendly.
---
#2. Stamina 36-inch Folding Trampoline
Bouncing for Fun & Good Health
Do You want to tone your overall muscles or burn some calories or increase circulation and build endurance?
Then, rebounding is fun and has many health benefits.
Jumping on a trampoline is another good exercise to lose weight and improve your cardiovascular fitness. It is fun to use, and you can place it in your garden or wherever you have some space in your home, perhaps in the sitting area, and work out while watching TV or listening to music, or you can fold it and take it with you to the office and exercise whenever you have some free time or on your break.
Heavy-duty rebounding surface; 30 tension bands of 2 inches wide each will support your bounce so you can feel safe and secure.
Sturdy construction; the frame is all steel, so you do not have to worry to break it with the jumping or because of your weight.
Compact and lightweight; you can remove the detachable legs, fold it and take it anywhere.
Studies confirm rebounding also improves the coordination throughout your body. In fact, trampolining or rebounding is also used as a complementary therapy with some patients.
---
#3. URBNFit Exercise Ball
Improve Strength and Muscle Flexibility
Another way to work out your full body without having to go to a gym is with this URBNFit home gym exercise ball.
The ball is widely used in body-mind practices like yoga and Pilates to improve strength and flexibility in your chest, arms, back, shoulders, legs and abs.
Durable Highest quality eco-friendly PVC material; It is made of tough material so the ball won't deflate or burst for you in the middle of an exercise. It also provides a good grip so it won´t slip whilst you are exercising.
Inflation pump included; since the product is delivered deflated you are provided with a pump to inflate it in no time and with some extra stoppers.
Multiple colours and sizes are available; great to be able to pick your favourite colour. Make sure to get the right size for you depending on your height.
Some are also using the ball as an office chair. It is known to reduce back pain and improve posture whilst working at your computer, especially if you work from home. I had thought about it for the office but my colleague was not very convinced to have balls instead of chairs, especially when having walk-in clients.
Pregnant women mention that sitting on the ball for a few minutes has helped them with sciatic pain and also easing contractions when having long labour.
---
#4. Calhome Aerobic Step
Lose Weight and Firm Your Butt & Thigh Muscle
If what you are looking for is a simple, safe and effective piece of equipment to improve your cardiovascular health, and to strengthen your lower body and sweat that fat, I suggest you check out this Calhome aerobic step. There are plenty of fun step exercises you can do.
Advantages: shock absorbing, non-slip and non-stick surface.
Lightweight and stable; easy to move around and it does not flex even when assembled to its maximum height. The step is sturdy enough even if you are a taller and bigger person.
Stackable & Adjustable height; Height is adjustable which is ideal for a cardio workout or to strengthen your lower body. Stepping higher works wonders for your butt and thigh muscles.
Make sure you do a warm up before starting your step exercises to get your circulation going.
The Calhome aerobic step is a great product at a great price.
---
#5. Fit-Simplify Resistance Loop Bands
Carry Them Along & Exercise Anywhere
If you are after an excellent fitness exercise with little equipment, then resistance loop bands, also called mini-bands is the way to go.
Whether you want to use resistance loop bands for stretching exercises or muscle building and toning, as a fitness workout on its own or perhaps use them as props in your yoga or Pilates class, these bands surely come in handy. Resistance loop bands occupy very little space and you can have effective and good work out including both your upper body (biceps, triceps, shoulders and back) and lower body (glutes, tights and abs).
Heavy-duty resistance; The bands are thick, stretchable and resistant. You have 5 levels and come in different colours and they are also labelled (extra light, light, medium, heavy and extra heavy), which make it easier for you to pick the correct band to depend on the strength level and exercise, also suitable for beginners and experts alike as the bands go from lower to the higher resistance level.
100% natural eco-friendly latex, free of non-natural materials such as Thermoplastic Elastomer (TPE), and they come with a lifetime guarantee.
Comfortable, Soft & Easy on the Skin; besides sweat resistant and lightweight
Therapists use resistance loop bands for physical therapy when treating injury rehabilitation on leg, knee and back.
They come with a carrier bag and an exercise guide. Make sure you order the original ones with the logo on.
Kelly of Fitness Blender shows a complete band workout for butt and thighs. Go ahead and exercise along with her.
---
Accessories
a) Apple watch series 5
A Must for Apple Fans
Would you like to keep a closer look at your progress and statistics? The Apple smartwatch is a cool and favourite exercise accessory to track your fitness goals.
This is the watch to rely on for all your workouts, indoor or outdoor. The electric heart sensor (install ECG app) gives very accurate data measured off your wrist and it has other built-in features that help you track your activity precisely so you know exactly what works for you.
GPS sensor makes it a great companion for your outdoor activities.
Always on display will shine bright even when you are in dark rooms and this is a preferred feature by many.
Besides the health tracking the watch has plenty of other features, some unique, for you to enjoy. This is definitely a must-have watch for Apple fans.
It is a pricey watch but worth the money; an ideal watch to gift to someone special. It syncs with your iPhone if you have one and you can access most of the data from your watch.
The Apple watch enables you to monitor another person´s heart rate and health checks from anywhere.
---
b) Exercise Ball Poster Laminated
Great Reminder to Do Your Workout
Do you have a gym ball or you are thinking of getting one but you are short of ideas on how you can benefit from it?
You should not worry. Here is a handy laminated wall chart that you can refer to for ideas. With these exercises on display, you can just concentrate on doing the exercises instead of thinking of what exercise you should do next, and avoid repeating the same ones. It is like having a silent trainer to accompany you with your workout.
They come in a good large size (20 x 30 inches) that you can hang nicely on the wall for an easy read. A quick glance at the poster will also remind you that you still have to do your fitness routine for the day.
The quality of the paper is also good; it is thick and is laminated with a glossy finish, with clear pictures. It also shows you what muscle group you are targeting, so that is a real plus, especially for beginners.
When investing in an exercise poster like this one, it will help you take your fitness routine to the next level.
---
c) URBNFit Exercise Ball Base
Ideal to use underneath the exercise ball to have more balance during your workouts or as a steady base if you use the ball as an office chair.
---
d) StoreWALL Home Gym Fitness Storage
How to Easily Organise Your Home Gym Equipment
If you have limited space or would like to organise your home gym equipment in one place, the StoreWALL Home Gym Fitness Storage is perfect for you. Check it out.
Do let me know which home fitness equipment is your favourite?