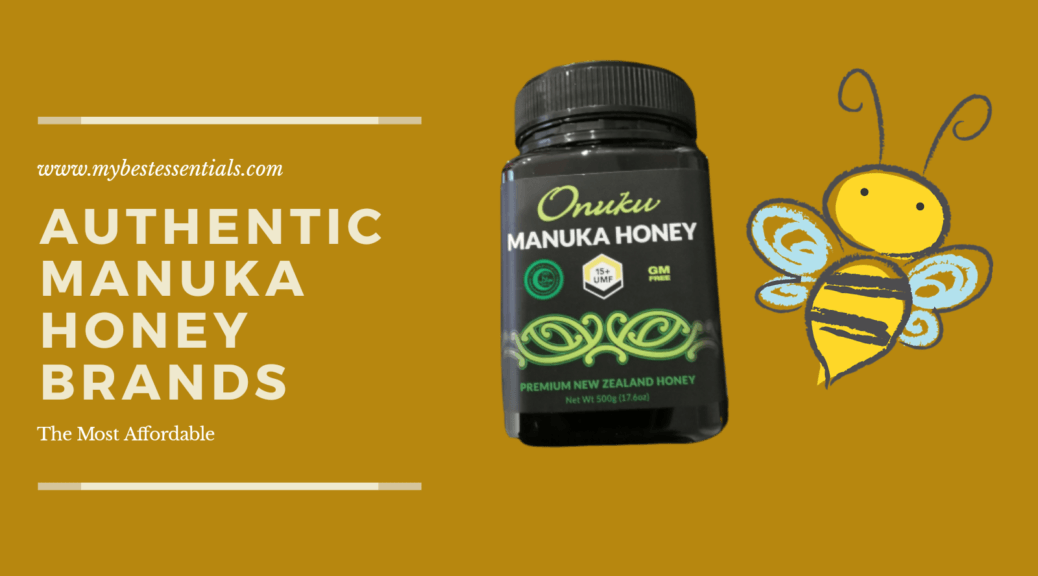 Authentic Manuka Honey Brands |The Most Affordable
Authentic Manuka Honey Brands |The Most Affordable
If you reached this article, you must have heard or read about the benefits of Manuka honey and before your purchase you are now looking for information on authentic Manuka honey brands.
This article will guide you so you are able to choose the best Manuka honey for you. Besides I will include a short list of the Manuka honey I recommend as I have been using it for many years for different purposes.
Manuka honey has become very popular and for this reason there is a great deal of new business interest and new companies are popping up, so make sure you are purchasing the genuine product (look for the UMF trademark).
I have listed below the best and most affordable Manuka honey brands at present. The list will be updated when new genuine deals come out.
This post contains affiliate links and I may earn a small commission when you click on some of the links at no additional cost to you. As an Amazon Associate, I earn from qualifying purchases. Thank you for your support. For more information please see my disclosure here
Authentic Manuka Honey Brands – Quick List
What Is Special About Manuka Honey?
Honey in general is proven for its antimicrobial, anti-oxidant and anti-inflammatory properties.
Manuka honey contains higher MGO (methylglyoxal), the natural chemical component that makes it a more powerful antibiotic.
The purest Manuka honey comes from a monoflower, the Manuka flower (Leptospermum scoparium), that is, the bee only visits the Manuka bush.
The Manuka flower blossoms only for a few weeks in a year and it is when the bees collect the honey. This limited harvest period is what makes Manuka Honey rare and expensive. Besides Manuka honey require special care and skills to protect its natural properties.
Medical grade honey or that contains MGO and other healing chemicals, is known to have helped heal wounds, aid with digestion, reduce microbial infections and inflammation, and is also good for skincare and is being included in beauty products.
The US National Institute of Health states that Manuka honey is safe to use as alternative natural antibiotic.
The main types of Manuka Honey UMF gradings are:
There is also a UMF25+ but it is rare to find and expensive.
The UMF is the official labelling that measures the amount of MGO and natural components that makes Manuka honey authentic.
MGO to
UMF calculator
Benefits
830+
UMF20+
Treat wounds in hospitals and clinics
500+
UMF15+
Therapeutic, for skin and mild infections;
acne-prone skin
250+
UMF10+
Basic natural healing, antimicrobial activity,
sooths coughs and sore throats, energy
booster, antiaging protection and glowing skin
80+
UMF5+
Basic maintenance; supports digestion and
immune system, natural sweetener
Is a Teaspoon of Manuka Honey a day good for you?
A teaspoon a day (UMF5+ to 15+) is good for the maintenance of digestion and immune system of an average healthy person. You can take a teaspoon daily for 4 weeks and then take a 2 weeks break after.
With higher UMF20+ gradings you can apply it directly on a wound or acne, or eat it when you are treating skin or other infections like throat infection, until symptoms ease. However, do consult your doctor before taking Manuka honey if you suffer from any disease.
Keep Manuka honey in your cupboard away from direct sunlight. No need to refrigerate. It won´t go bad.
Warning: Manuka honey is not recommended for:
kids under 1year of age,
people suffering from diabetes or other disease,
people allergic to bee pollen or venom
Where to Buy Manuka Honey?
Manuka Honey cannot be found at your usual grocery store. You are more likely to find good quality raw honey at gourmet supermarket and artisan shops, however they do not necessarily stock Manuka Honey all the way from New Zealand.
Big chain stores tend to sell a brand or two of their choice. It is only online where you can access a wider range of Manuka honey brands to choose from.
Manuka honey sold in stores tend to be more pricey, whilst you can get better deals online.
---
5 Authentic Manuka Honey Brands
Manuka Health Manuka Honey
Founded in 2006, Manuka Health is a leading New Zealand Natural health company with 140 dedicated specialist and aprox 1.5 billion bees.
Manuka Health pride themselves in dealing with the whole process of hiving, sourcing and packaging, and abide by the list of strict quality standards in New Zealand.
Manuka health honey has a rich sweet flavour and a velvety golden texture, standard with Manuka honey.
Highlights of Manuka Health
Produce a range of Manuka honey as well as propolis, royal jelly and skincare products
Manuka health extend testing beyond the required official control and test every jar 3 times during its process.
Tested for pesticides and herbicides to ensure free contamination.
---
Comvita Manuka Honey
Perhaps one of the most renowned bee-friendly company worldwide. Comvita was founded in 1974 with the vision to connect people to nature and to healthy living.
With such a long experience in bee-hiving Comvita can guarantee the pure raw Manuka honey extracted only from the monoflower Manuka.
Comvita honey is creamy rich with a dark golden colour.
Highlights of Comvita
More than a company, Comvita is a community
Provide purest natural honey from the bee-hive to your shelf
Involved in many environmental sustainable programs
---
Onuku Manuka Honey
Onuku Manuka Honey is a fast growing 100% Maori brand and honey is produced by bees that collect nectar from the Manuka bushes planted on prime and remote land at the base of Mt Tarawera on the North Island in New Zealand.
Onuku Manuka honey is rich and creamy with a golden colour, and a slight bitter taste.
Highlights of Onuku Manuka Honey
100% certified natural and pure New Zealand Honey
Onuku is sourced from the land indigenous to Maori people in New Zealand
Reasonably priced, sometimes it´s the cheapest on the market for higher gradings UMF15+ or UMF20+ and you are still getting good quality Manuka honey
---
Happy Valley Manuka Honey
Happy Valley is a family run business and the dedicated owners strongly believe in the natural power of Manuka honey and are committed to provide the best quality product with least human interference.
The product comes along with a nicely prepared informational booklet about the company and the honey.
Happy Valley Manuka honey is rich and liquid creamy. It has a darker amber colour with a more potent flavour than the usual honey
Highlights of Happy Valley Manuka Honey
Genuine New Zealand Manuka Honey
Over 50 years hiving experience over 3 generations
In 2013 developed a skincare range of beauty products called Royal Skin
---
100% Pure New Zealand Honey
100% Pure New Zealand honey was established in 1996 and is committed to provide the purest of Manuka honey as the name suggests.
The company uses a special method and craft the honey by hand for better quality and purity.
It has a dark colour with a bit of a herbal, aromatic flavour. The texture is thick and creamy as the usual Manuka honey
Highlights of Pure New Zealand Honey
100% natural and pure. In fact their trademark is Pure Flow
No pasteurization or excess heat, no preservatives or additives
Blended manually by experts to protect the nutrients
---
And for those who wish to learn more about bees, here is an interesting documentary on mindful bee-hiving by Comvita.
I personally love Onuku best as it has that slightly bitter taste that I tend to enjoy, though it is still sweet honey. Sometimes it is hard to find Onuku in Europe and when it is not available I select another from the list of authentic Manuka honey brands. I don´t usually go below UMF10+.