What Is The Supplement Ashwagandha? Does it Help You Boost Energy
What Is The Supplement Ashwagandha? Does it Help You Boost Energy
What is The Supplement Ashwagandha?
Ashwagandha is one of the most used herbs in ancient Ayurveda, the Indian traditional medicine. The super herb is known for its balancing, nourishing, and restorative effect on the body and mind.
The botanical name of Ashwagandha is Withania Somnifera, and it is equally beneficial for women's and men's health.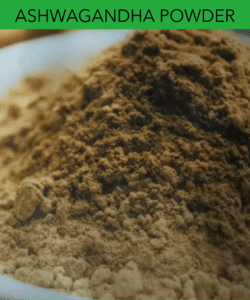 Compounds used in Ayurvedic medicine are extracted from the roots, leaves, as well as flowers of the Ashwagandha plant.
Ashwagandha is commonly used in Rasayana rejuvenation programs, for better health and longevity. 
This post contains affiliate links and I may earn a small commission when you click on some of the links at no additional cost to you. As an Amazon Associate, I earn from qualifying purchases. Thank you for your support. For more information please see my disclosure here
Ashwagandha Supplements
Supplements come in different forms including:
Ashwagandha Powder
Ashwagandha Tablets
Ashwagandha Capsules
Ashwagandha Liquid form
Ashwagandha Massage oil 
Ashwagandha Gummies
Ashwagandha Powder is the most effective form, however, the taste is strong. See further below on how you can mix it to taste better.
What are the Benefits of Ashwagandha
When you are stressed, have anxiety, and do not seek help or treatment for a long period of time, the high hormonal levels of cortisol will start having a negative effect on your health. This is where Ashwagandha can help. Ashwagandha is known to: 
Enhance immunity
Give endurance to the body
Relieve stress
Calm the mind
Improve brain health and memory
Balance hormones, especially Vata
Enhance sexual health
Body stamina
Help with insomnia
Improves clarity and concentration
Rejuvenate
Restore skin elasticity
Relieve muscle tension
How To Take Ashwagandha
When it comes to herbal supplements, it takes between 2-4 weeks for the herb to start working, and to see results. Some people may feel the difference in the first 3 days. This depends on your health condition.
After taking Ashwagandha for a month or 6 weeks, it is recommended to take a break of say, 2 weeks. Then you can restart taking the Ashwagandha supplement.
Always read the directions on the label.
What Is The Best Time To Take Ashwagandha
It is recommended to take Ashwagandha with milk, preferably warm milk, and before bedtime. You can mix it with your smoothie, or add turmeric and honey with milk before bedtime. 
Caution: Before taking any Ayurveda supplements, though being natural and cause no side effects, it is recommended to consult an Ayurvedic doctor. Avoid taking Ashwagandha if you are pregnant, are breastfeeding, suffer from hyperthyroidism, or have an autoimmune disease.
My Take on Ashwagandha
I just started having the organic Ashwagandha in powder form. And, because the taste is strong, (quite bitter, it makes me wink) I dissolve the powder in milk (soy or oat milk) and add some honey.
This is the first time I´m trying Ashwagandha, and I´m quite happy with the result. It makes you feel calm and more focused. I was a bit overwhelmed by the cold weather, my hands and feet are always frozen, and Ashwagandha really helped. It does not make you feel sleepy or hyper.
I´m taking a teaspoon in a glass of milk before bedtime.
FYI, the manufacturer is called Monte Nativo, from Germany.
Conclusion
Being one of Ayurveda´s favorites, Ashwagandha is highly recommended for a healthier and happier lifestyle. 
If you have a busy life, feel stressed, or lack energy, then Ashwagandha can help you regain energy. 
Take Ashwagandha as a natural supplement to strengthen your immune system and restore vitality. 
As a natural herb, it is normally safe to take Ashwagandha even for a longer period of time. However, a pause of 2 weeks is recommended for every 6-8 weeks of taking the herb. 
If you care for your wellbeing and would like a natural supplement without causing side effects or overstimulation, then Ashwagandha may be the right herb for you. 
Ashwagandha is considered a superfood, just like probiotics or Shilajit. 
Ashwagandha gummies are dietary supplements known to reduce stress and help you get better sleep. These have become popular in the past two years, and the gummies are available on Amazon.
Minimum doses are generally safe for everyone. Supplements are not a substitute for your medication. It is advisable to consult an Ayurvedic doctor prior to taking them.