The Tao of Health, Sex & Longevity | Book Review
The Tao of Health, Sex & Longevity | Book Review
I purchased the book The Tao of Health, Sex & Longevity, about 20 years ago when I was travelling in Australia, and from time to time I still refer to it to revise information regarding body & mind balancing techniques.
This post contains affiliate links and I may earn a small commission when you click on some of the links at no additional cost to you. As an Amazon Associate, I earn from qualifying purchases. Thank you for your support. For more information please see my disclosure here
This is the old book cover version and the copy that I have.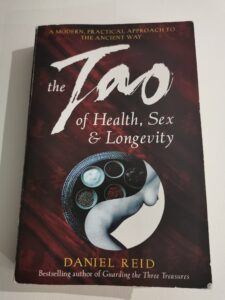 Besides Ayurveda, I find Taoism also interesting as a self-guide to practise a natural and balanced lifestyle.
Taoism
Taoism is a Chinese philosophy that highlights the importance of living in harmony with the universe and nature.
---
A Bestseller
The Tao of Health, Sex & Longevity by Daniel Reid, is a bestseller in which the author explains to the Western World, various basic aspects of health, sex and life expectancy, as practised in classical China for more than 5000 years.
---
The Tao of Health, Sex and Longevity – The Introduction
The introduction talks about the history of Taoism in China and The Tao in China as it is practised today. It describes the Yin & Yang energy and how they complement each other. It includes information about the five elements of nature that unite men with the universe.
A further list and description of the Cast of Taoist Characters brings the historical personalities to life, whilst describing their roles and professions back then.
---
The Content
The content of the book is then divided into 3 more sections, titled Health, Sex & Longevity; each one of them having various chapters as listed below;
The Tao of Health
diet and nutrition
fasting
the art of breathing
exercise and healing.
The Tao of Sex
yin and yang forces
ejaculation control
and Taoist bedroom arts.
The Tao of Longevity
---
How You Can Make Good Use of The Book
The Tao of Health, Sex & Longevity
You can either read the book sequentially or go directly to the topic that interests you most. Since each chapter has a subheading, you can always proceed to the section you are interested in at the moment; some examples are; eating right for health and longevity, total relaxation exercises, Taoist birth control, sex therapy, and so on.
Most sections come with illustrations to make them easier to understand, some of the illustrations include; a yoga posture, breathing exercise, or a sex position.
When you have covered a few sections of the book you will realise that you can find information such as;
simple diet rules on what to eat and how to eat,
try some of the recommended recipes or home remedies,
learn how to deep breathe properly and many more.
There are many how-to methods that you can follow.
Most important of all is that you can learn and practice at your own pace, try things out and see what goes well and what not for you, and enjoy a good read as well.
---
My Recommendation
I do enjoy reading a few paragraphs every now and again, or when I´m after some information or simply have a short read before going to bed, and I am sure you will find the book useful besides being interesting and educational. I believe that every home should have a copy of this book.
The Tao of Health, Sex & Longevity is a non-fiction book, and it is for every person who is concerned about good health and is investigating the natural alternative and holistic way of healing and prevention.
Should you wish to get a copy of this book for yourself or to gift it to someone you can hover over the book below;